White Russian is a trade mark name invented and registered by us for the seeds we sell under this name since 1995.







White Russian strain produce strong, healthy, fast-growing plants that are fantastic in appearance and effect. Very popular also for outdoor growing in Spain, France, Italy and California. This variety is our most typically Indica strain. White Russian is a stable cross of our original AK-47 strain and the famous award-winning clone of White Widow from the 90s.Read more
White Russian Strain Characteristics

| | |
| --- | --- |
| Recommended veg. time | |
| Indoor flowering time | |
| Indoor yield | |
| Outdoor harvest time | |
| THC levels | |
| CBD levels | |
White Russian Strain Description
White Russian strain produce strong, healthy, fast-growing plants that are fantastic in appearance and effect. Very popular also for outdoor growing in Spain, France, Italy and California. This variety is our most typically Indica strain.
The White Russian strain is a stable cross of our original AK-47 and the famous award-winning clone of White Widow from the 90s. She is of medium height, developes into consistent 'not too leafy' plants and produces dense, very resinous flower tops (crystals start to appear after about 5 weeks of flowering).
The plants smell quite strong during the growth and flowering period. In an independent seed comparison in the UK in which over 150 different seed strains were grown, the White Russian seeds came out as the strongest plant. Winner of the overall High Times Cannabis Cup in 1996 and of the Cup for Best Bio Grass in 1997.
The plants yield very powerful buds, coated with an abundance of resin. The effect is a very strong, long lasting High, which is more cerebral (=head-high) than it is a knockout (=body-stoned). Excellent medicinal plant for pain-relief. Last awards won by White Russian: 1st prize Indoor, El Punto Cup 2005, Málaga in Spain and 2nd prize Extracts, Highlife Cup 2013, Amsterdam.
White Russian (Serious Seeds) –
Perfect genetics for the real cannasseur
Text & Photos: Green Born Identity – G.B.I.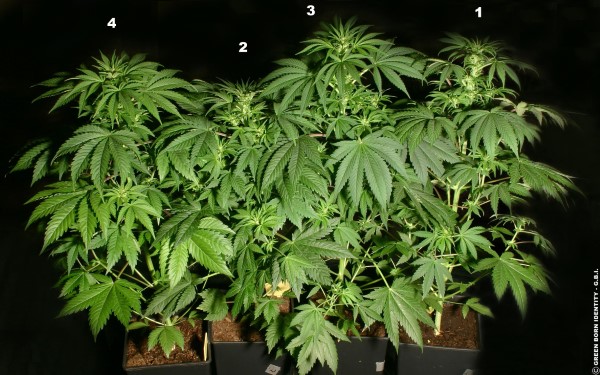 Amongst the white strains, the White Russian strain is one of the oldest and most sophisticated. We are talking here about a serious, professional piece of breeding work, not one of those crap seed varieties hastily cobbled together from inferior genetics and labled "white" for commercial reasons by some amateurs. No, it`s about the real mighty White Russian coming straight from one of Holland`s breeding halls of fame: Serious Seeds. Simon, the breeder, has done a fantastic job with White Russian, making it a popular figurehead of his seed bank right from the beginning. What a shooting start: White Russian strain took part in the High Times Cannabis Cup in 1996 for the first time, and it won both the overall Cannabis Cup and the Bio Cup for the coffeeshop "De Dampkring" at first go! In the following year, White Russian scored second place in the Hydro Cup, once again entered by De Dampkring. This company, known as one of the best quality coffeeshops in Amsterdam, contributed a lot to White Russian`s success story by selling it over years to thousands of tourists from all over the world.
Let us take a closer look at its genetics. White Russian strain is a stable mostly indica cross of Serious Seed`s AK-47 and the famous White Widow. These two giants of cannabis breeding history were merged into a new mega species that produces very consistent plants of medium height and dense, heavily resinous flower tops with very few leaves. White Russian is one of the strongest varieties available: For an independent seed comparison in the 90`s, 150 different strains were grown in a greenhouse. With 22% THC, White Russian turned out to be the most potent plant in this test cultivation. One could argue now, "okay, White Russian is award decorated and everything, but that`s almost a decade ago, what about its actual capacity nowadays?" A legitimate question that I decided to give an answer to. An up-to-date White Russian cultivation test should reveal its present quality as a seed strain.
An experienced grower called "Cloudz" conducted this project, using eight original White Russian seeds. All of them germinated very well and were grown at first under a "MaxGrow" (Germany) energy-saving lamp with 115 watts and full spectrum, what resulted in very compact growth with lush green leafs. Cloudz used six litre pots with soil mixture. 2.5 weeks after germination, the plants were moved to the actual grow room, where they received 600 watts of light from a high pressure sodium lamp, at a daily light cycle of 18 hours. What stroke the eye from the beginning on, was the remarkable uniformity of the plants. They actually looked like clones, there were almost no differences in height, width, colour and leaf structure. About four weeks after germination, Cloudz induced flowering by shortening the light cycle to 12 hours. Four plants turned out to be female, the male ones were discarded. During flowering, two types of bud formation were revealed by the plants: Both were very dense and resinous (though not as resin-crusted as White Widow), having quite few leaves. But the first type grew a little bit higher and had colas that were more long-drawn, while the colas of the shorter second type were more roundish. The single yield of the four plants, however, did not differ very much, with the respectively best plants of each type yielding almost exactly the same. They all looked awesome at the end of flowering, loaded with thick beautiful buds all over the plants, from the very bottom to the tip. These tight flower clusters felt rock hard and promised a most rewarding harvest. The only thing that didn`t go according to plan was the fact that all of the four plants exceeded the expected flowering time of 56-63 days by five days, finally reaching maturity after 68 days, when 70-80 % of the stigmas had withered and turned orange. Well, these additional five days of waiting did not really hurt, considering the superb cannasseur quality of the buds and the extra grams of weight that were produced in the last five days. The harvest amount ranged from 40 to 51 grams, quite sensational for a variety that was grown from seed, cultivated in soil and left in the vegetative state for a standard period of time. Apart from that, the flowers effused an extraordinary strong honey aroma that had adopted an also fruity scent after the drying process. Already in the vegetative state, the plants are developing a strong smell, so take good care about proper air control.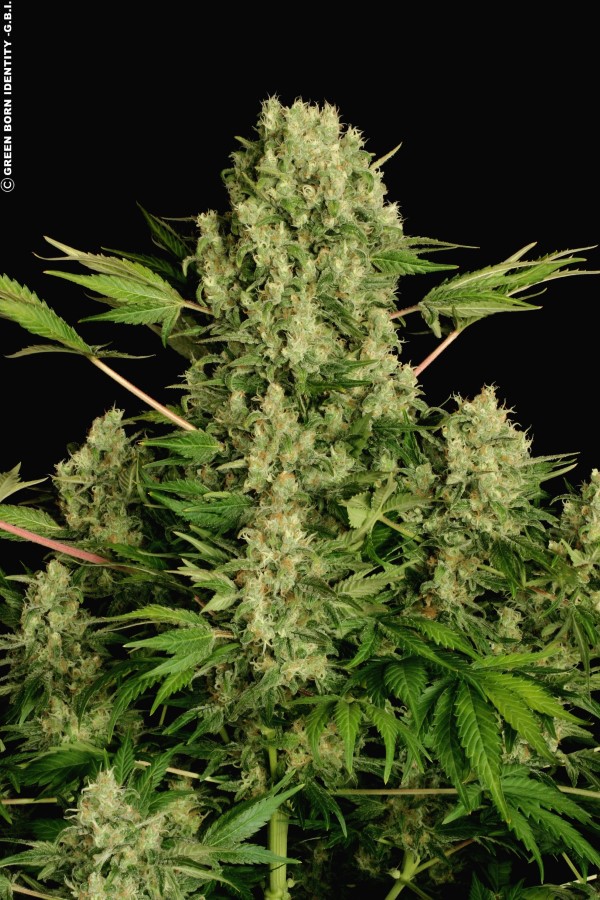 Cloudz was all on edge when it finally came to smoking the White Russian buds. And wow... the effect was even better than he had expected, heavily potent, hard-knocking and stony, but also somewhat cerebral at the same time. One or two bong hits, and he was done for a while. The high would last for hours, often causing fits of laughter. Cloudz estimated the THC content at not less than 20%, clearly noticing the extraordinary strength of the White Russian strain, and I agreed with him. The aroma of the smoke was very fine, too, offering a smooth, full-bodied sweet taste. The grower was overwhelmed by the overall quality of his four White Russian ladies, never before he had experienced quality homogeneity on such a high level, fantastic in both appearance and potency. No doubt, the White Russian strain today still has its firm place among the world`s best cannabis strains.
Green Born Identity - G.B.I.
All enquiries please contact Serious Seeds
UK Official Distributor
www.puresativa.com
Tele No: 020 8964 1717
It is illegal to germinate seeds in the UK
Cultivation data:
| | |
| --- | --- |
| Strain | White Russian (4 female plants grown from seed) |
| Pedigree | AK-47 x White Widow |
| Genetic Type | Mostly Indica |
| Vegetative stage | 28 days (incl. germination) |
| Flowering stage | here 68 days, in general 56-63 days |
| Medium | standard grow-mix |
| pH | 6.2-6.8 |
| EC | up to 2.0 (nutrient solution) |
| Light | 600 W HPS Osram Planta-T |
| Temperature | night: 18 °C day: 24-28 °C |
| Air humidity | max. 60 % in the flowering stage |
| Watering | by hand |
| Fertilizers(veg. stage) | House & Garden A + B |
| Fertilizers(flowering. stage) | House & Garden A + B,PK 13+14 in the sixth week |
| Stimulators | "Exelent Explosief" bloom stimulator |
| Height | 80/80/88/90 cm |
| Yield | 45/41/40/51 grams. |