Serious Happiness is a trade mark name invented and registered by us for the seeds we sell under this name since 1995.
Type:
F1-hybrid, Sativa/Indica Hybrid


Two legends were crossed to produce the Serious Happiness strain. We combined our famous Warlock-father with our legendary AK-47-mother and the result gave us pure happiness! In fact this hybrid brings happiness TWICE.Read more
Serious Happiness Strain Characteristics

| | |
| --- | --- |
| Recommended veg. time | |
| Indoor flowering time | |
| Indoor yield | |
| Outdoor harvest time | |
| THC levels | |
| CBD levels | |
Serious Happiness Strain Description
Two legends were crossed to produce the Serious Happiness strain. We combined our famous Warlock strain (father) with our legendary AK-47 strain (mother) and the result gave us pure happiness! In fact this hybrid brings happiness TWICE.
First you will be happy about how easy to grow she is. Serious Happiness strain has the perfect hybrid-structure for indoor growing with several side branches not too close together. In flowering each branch grows a very big and dense bud with few leaves, she is easy to manicure!
Her aroma and taste are sweet and fruity, sometimes a bit spicy, with a sugary aftertaste when smoked. That is the moment when she gives pure happiness for the second time. Her effect is a longlasting buzz that combines a nice body-stoned with an incredible head-high, we felt this as pure bliss.
The name Serious Happiness came up after smoking this fantastic strain, because thats exactly how the grower feels, happy while she grows and seriously happy when she is finished. FIRST award won by the Serious Happiness strain: 3rd prize in the category: 'Sativa / Grower' at the IC-420 Cup 2015 in Amsterdam, entered by CLOUDZ.
The yield of this variety is AMAZING! She received the SPECIAL AWARD for the MOST PRODUCTIVE variety at the Master Seedscup 2016 (edition: Outdoor Spain) from YERBA-Magazine.
Serious Happiness:
First child of the revolution
Text & Photos: Green Born Identity – G.B.I.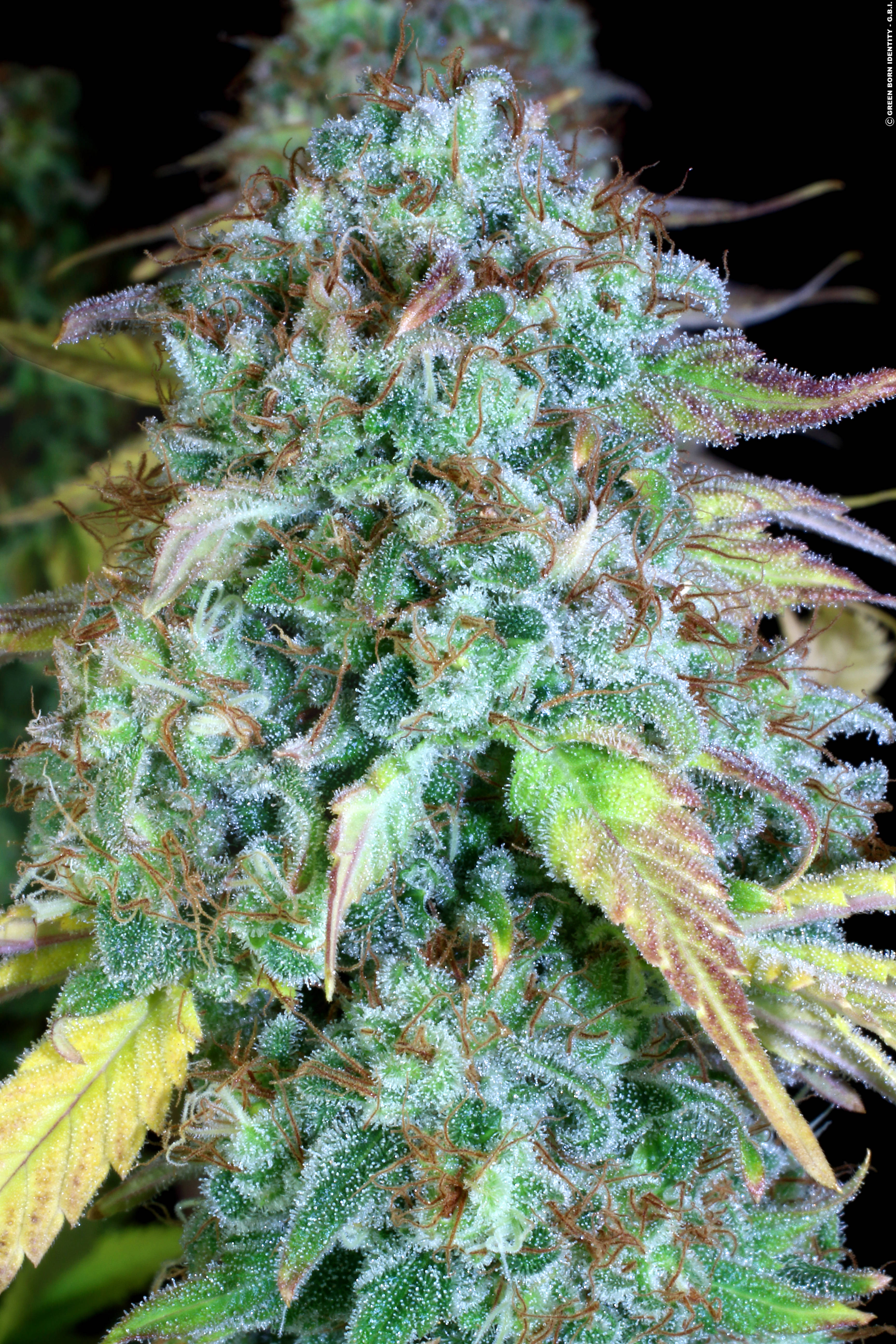 "Happiness is not a destination, it is a way of life" - a wise saying that everyone should live up to... and not go through one's life full of grumpiness and envy of other people's luck. After all, everybody is the architect of his own future. Yes you can! Achieve happiness. As the story goes, that happiness saying mentioned above, displayed in a picture frame on a cupboard, during a meeting inspired the Serious Seeds crew to name the first strain of their new Seriously Limited edition line 'Serious Happiness'. But of course, the second source of inspiration was the smoke itself, as reported by Serious: "The name Serious Happiness came up after smoking this fantastic strain, because that's exactly how the grower feels, happy while she grows and seriously happy when she is finished."
After Serious Seeds had carried only five outstanding premium varieties for one and a half decade, it was a kind of revolution when they took over Magus Genetics in 2011, overnight doubling their assortment. With the release of the Serious Happiness strain, a second revolution has taken place now in the company of owner and breeder Simon: It's the first time that they put a strain on the market that has not thoroughly been bred to utmost perfection over many years, but been composed in a much shorter time - in this case of two of their own superb established strains, AK-47 and Warlock. But as the name of that new strain line - Seriously Limited - suggests, the Serious Happiness strain has been released in a limited amount only, 4,000 packs were produced. Because the idea behind this new line is to offer new crosses to the customers and let them decide whether Serious Seeds shall proceed with these or not. Serious explains: "We give away test seeds at international fairs, later on getting feedbacks from people who have grown them. Once we see that our Serious growers are satisfied with the new cross, we will start to produce a limited amount of seeds as a limited edition of always only 4,000 packs, each with a unique serial number. Only when we see that our Serious growers are really happy with a Seriously Limited strain, we will start to produce this new strain on a regular basis, adding it to the regular Serious Seeds assortment. This way we can further work on stabilizing the new strain and at the same time ALL growers can try the new variety."
Well I think that this new marketing strategy of Serious Seeds is an excellent concept: On the one hand - with regard to its regular strain assortment - Serious sticks to its principle to only release a variety after it has been bred to perfection, fully satisfying master Simon's s strict demands in terms of stability and homogeneity. On the other hand, the introduction of the new Seriously Limited line allows him to experiment a lot with old and new genetics and include the growers' opinion in his breeding goals at the same time. Also, he gets into a position to quickly react to new market trends, if considered necessary by him. Another advantage is the close cooperation with the Serious customers who thus potentially develop an even stronger bond with Serious Seeds. And also can enjoy testing a new Serious strain more often than before, which will be much appreciated certainly.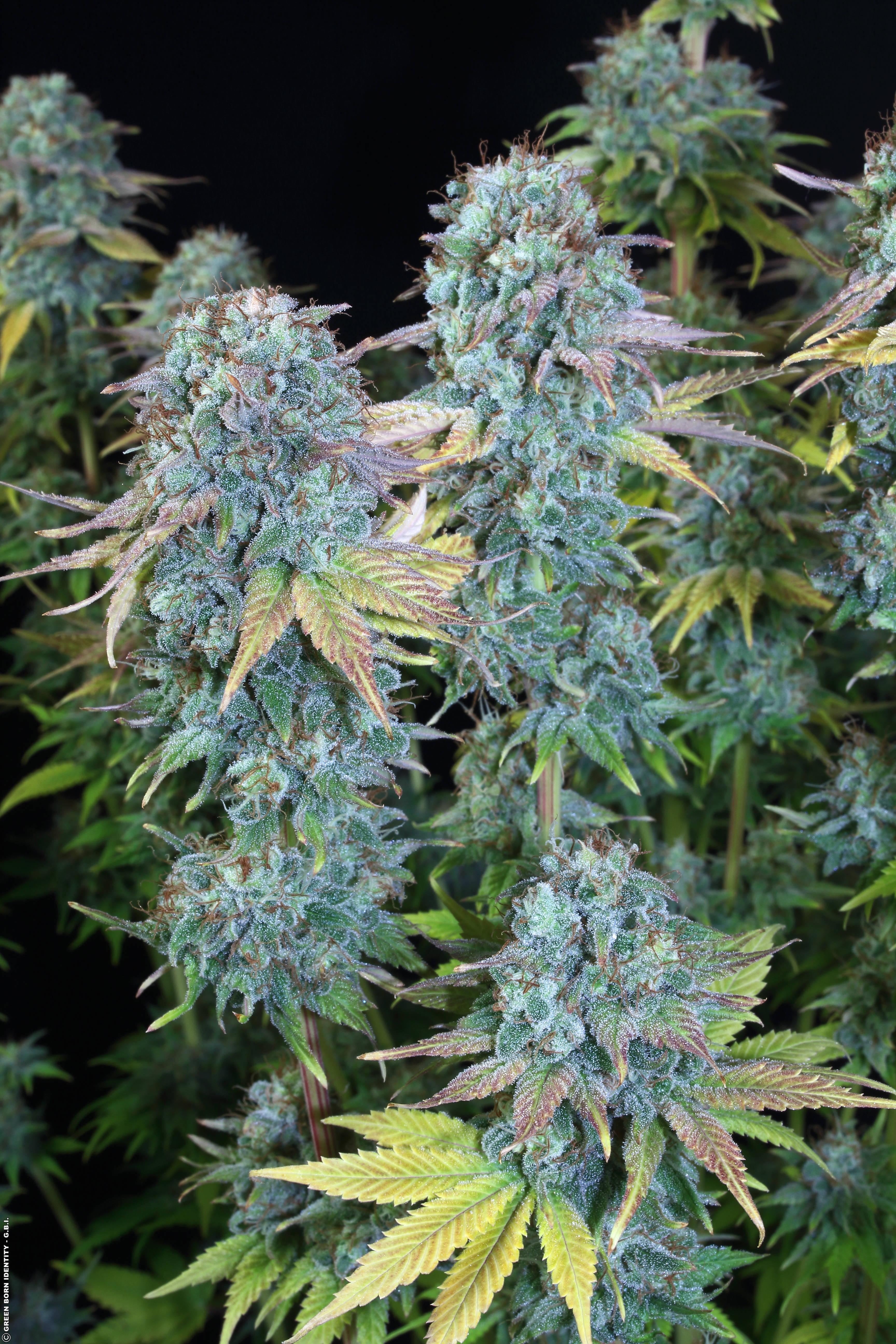 So it's really a little revolution that has happened at Serious Seeds - and the first child of the revolution was named Serious Happiness, a Sativa/Indica hybrid created from their legendary AK-47 and their famous Warlock male. Serious promises that this strain "brings happiness twice" – at first, through an easily manageable growth with an ideal indoor stature and lots of big dense buds with few leaves, and then also through a long lasting buzz with both a body stone and incredible head high, delivered by its sweet and fruity buds. The Serious Happiness strain is not a super fast flowering hybrid, she takes her time, maturing within 60-70 days of flowering. A harvest of 400 - 500g/m2 can be expected if the plants are left in the vegetative stage for 4-5 weeks. Under natural light, this strain finishes mid to end October.
At the IC Mag Cup 2015, Serious Happiness received early applause when it took third place in the Sativa category of the Grower's Cup, entered by a guy called Cloudz. Another grower who recently put the Happiness to a cultivation test was The Doc. He showed three feminised seeds and (as usually from Serious Seeds) got a germination rate of 100%. The three Happiness plants did very well during the vegetative stage, exhibiting vivid compact growth with excellent lateral branching. Also, they were amazingly uniform - from such a cross, The Doc had expected much more instability and diversity. Four weeks after germination, The Doc switched the daily light cycle from 18/6 to 12/12, as it was about time for the flowering stage. The plants were 39-48 cm tall at that point of time and expected to approximately double their height during flowering, because of their mostly sativa nature.
In the course of flowering, it turned out that two of the plants resembled each other like clones, growing accurately head to head until the very end, even with the same amount of branches and buds, simply amazing. These two Happiness plants, indeed, had almost doubled their height after four weeks of flowering, while the third plant didn't stretch as much as the others, remaining to look very bushy, almost gloated. It was about one-third lower than its two Happiness sisters. But all the three plants exhibited an impressive number of side branch buds that obviously were going to become big and thick, arranged around a marvellously prospering top cola on the main stem. "This is a perfect indoor plant growth and bloom pattern. Looking at these plants already makes me happy", said the Doc with a smile on his face.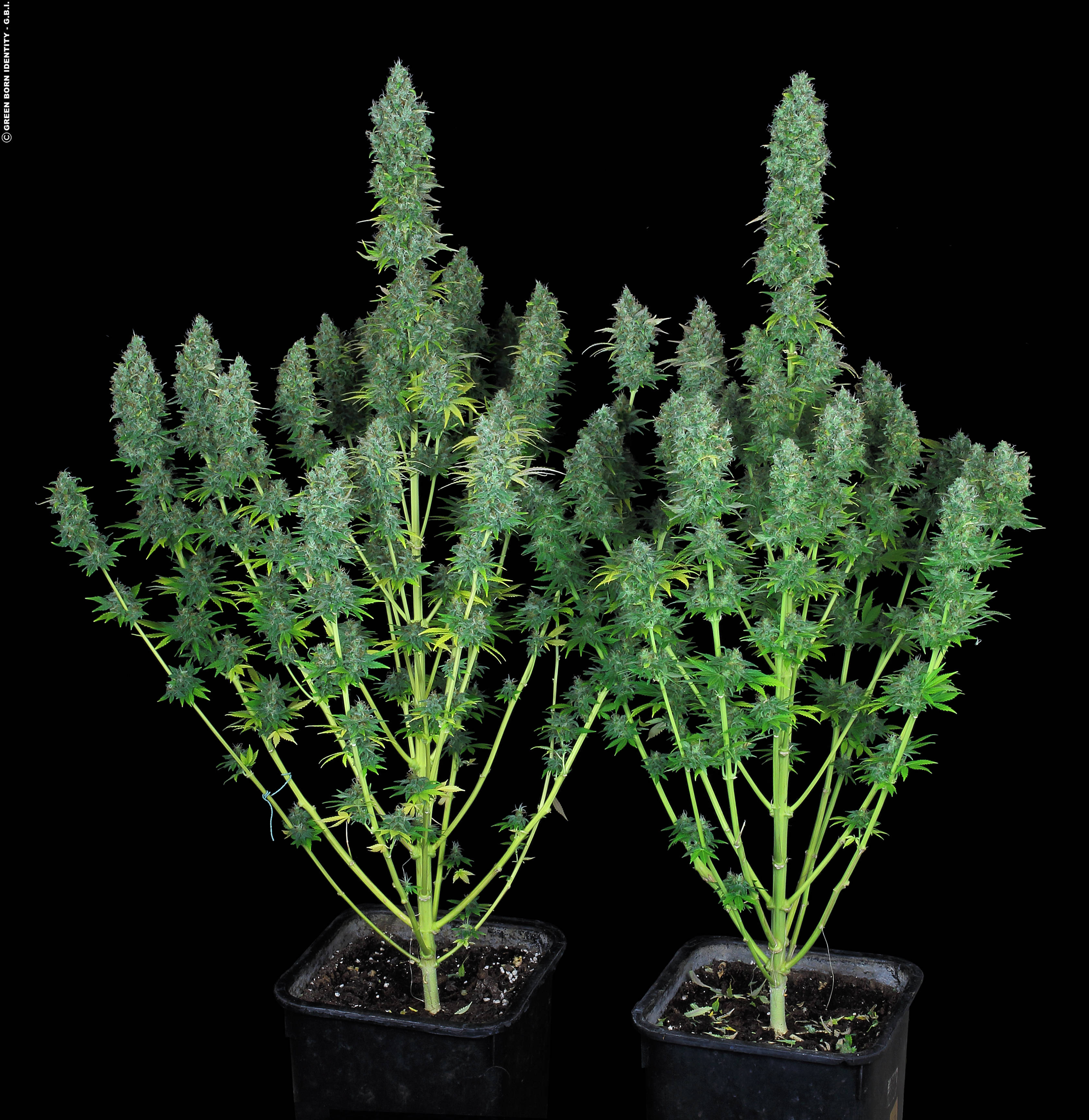 During the fifth and sixth week, the plants put on a lot of bud weight, with the flowering tops assuming a fat and bulbous shape. And their calyx-to-leaf ratio was very high, only a few leaves were protruding from dense massive calyx formations. Which were encrusted with a myriad of resin glands after eight weeks of flowering, giving the buds a sparkling white appearance. The Doc reported: "The three plants are already looking quite ripe now. Yippie, one of them comes with a big surprise – it smells like wild cherry! Fantastic, that odour I've never experienced before. I know that there is this myth of an AK-47 cherry pheno once found by a certain grower… while Simon says that he himself has never come across it. But who knows, maybe it really exists, having come through now surprisingly in this one AK-47/Warlock hybrid plant?" The other two plants also had a very nice sweet and fruity smell that could not specifically be defined though.
Dockie harvested the three Happiness plants after 61-63 days of flowering, early in the harvest window stated by Serious. The two clone-like plants each measured 95 cm in the end and impressed him with nineteen big roundish side tops that felt hard like a rock. Also laden with plenty of fat tight buds, the third plant had arrived at a height of 78 cm. The total dry weight of the buds was 291 grams, so the average yield almost amounted to 100 grams per plant - a proud achievement for a cross that has not yet been bred to perfection, I'd say. After the drying process, that one plant's rare cherry aroma was unfortunately gone, but much to The Doc's surprise and delight, the buds of one of the other two plants had meanwhile developed a distinct cherry smell! When he opened one of his huge jars filled with those buds, so that I could convince myself of that phenomenon, heavy cherry aroma clouds came out of it. Most delicious that was, and of course I couldn't wait to sample a smoke. Or rather to sample some vapor hits from the Volcano which caused an intense burst of fruity sweetness in my mouth, still reminding a bit of cherry, what a wonderful taste. And I didn't have to wait long for the effect which started to set in within half a minute, instantly giving me a precise idea of why they had called this strain Serious Happiness… as loads of happiness spread out in my mind and a big permanent grin took possession of my face. I felt a powerful combination of narcotic sensations, uplifting and euphoric in the head and at the same time lighting a warming relaxed indica fire in the body. A really blissful experience that lasted for a long time - that's what I call cannabis happiness, indeed.
So instantly with the first strain of his new Seriously Limited line, Simon has landed a big strike, the first child of the revolution has proven to be strong and mighty. His Serious Happiness provides happiness to everybody – the Serious crew, growers, smokers, patients… We just can't wait for the next Seriously Limited release!
Green Born Identity – G.B.I.
Cultivation data:
| | |
| --- | --- |
| Strain | Serious Happiness (AK-47 x Warlock) |
| Vegetative stage | here: 4 weeks (after germination) |
| Flowering stage | here: 61-63 days / 60-70 days in general |
| Medium | Plagron Grow Mix |
| Container volume | 11 litre pots |
| pH | 6.0-6.6 |
| EC | 1.2 - 1.8 mS |
| Light | Up to 2x 600 W MH + 1x 400 W HPS in the vegetative stage, 2x 600 W HPS + 1x 400 W HPS in the flowering |
| Temperature | night: 17-19 °C day: 23-28°C |
| Air humidity | 40-60% |
| Watering | by hand |
| Fertilizers | Organic Grow Liquid and Organic Bloom Liquid from Green Buzz Liquids |
| Stimulators/Additives | More Roots, Humin Säure Plus, Big Fruits, Fast Buds and Clean Fruits from Green Buzz Liquids |
| Height | 78/95/95 cm |
| Yield | 3 plants = 291 g |
Serious Happiness Reviews